Site Redesign
We hope you will enjoy the new design we have created for the site. There are still a few kinks to be worked out in the coding, so please excuse any errors. As time permits, we will add additional content.
New Book: Metropolitan Petros of Astoria
Written by Anastasios Hudson Monday, 18 August 2014 14:20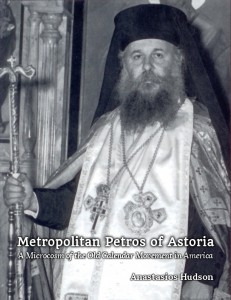 Thanks be to God, I have finally published my book, Metropolitan Petros of Astoria: A Microcosm of the Old Calendar Movement in America. This book, which was originally my Master's thesis at St. Vladimir's Seminary (2005), has been edited and corrected, and formatted for publication.
At present, the book is available in print-on-demand and ebook formats from the following locations:
Print: CreateSpace and Amazon.com
eBook: Amazon Kindle, Lulu, Kobo, Nook, iBookstore
From the back cover of the print edition:
"Metropolitan Petros of Astoria was born Stephanos Astyfides on September 1, 1915, on the island of Chios, Greece, to Maria and Dimitris Astyfides. From an early age, it is reported that both he and his brother Nikolaos (later Fr. Niphon) were inclined towards monasticism. At the age of 18, Stephanos set off with Nikolaos to Mount Athos, where they resided at the Skete of Saint Anna in the Cell of the Holy Ascension. They were ordained as deacons and priests by Bishop Germanos of the Cyclades in order to serve parishes in Thessalonica, Chios, and Athens that adhered to the Julian Calendar. The precise date of Father Petros's ordination to the priesthood was August 9, 1944. At this time, there were no bishops and very few priests affiliated with the Greek Old Calendarist Church, and as a result hieromonks from Mount Athos performed the task of serving for those faithful who refused to accept the New Calendar" (Chapter 2).
Tucked away on a quiet street in Astoria, New York is the Cathedral of Saint Markella, founded in 1954 by Metropolitan Petros of Astoria (1915-1997), the first resident Old Calendarist Greek Orthodox bishop in America. This work examines his ecclesiastical life, from his origins in Greece through his arrival in America and establishment of the Cathedral, his ordination to the episcopacy by bishops of the Russian Orthodox Church Outside Russia, his relationship to the Holy Synod of the Church of the Genuine Orthodox Christians of Greece, and his later years. The controversial issue of his views on the issue of Grace in the Mysteries (Sacraments) of the New Calendarists is discussed frankly and analyzed. His life and work is framed in the context of the Old Calendar movement as a whole, and his life is revealed to be a microcosm of it.
What emerges is a portrait of a zealous pastor dedicated to the salvation of the souls under his care, who reached out to the Greek Diaspora of New York and beyond with a concern for preserving and restoring ecclesiastical Tradition, who cultivated deep relations with Russian Orthodox Christians at a time when Orthodox in America appeared to be hopelessly fractured along ethnic lines, and who maintained a principled approach to theological matters, despite suffering great personal costs.
Also, see the excerpt from the Preface.
Please purchase your copy today, and help support me in my writing career! Your support will enable me to continue writing additional works such as this in the future!
Originally published at http://www.anastasioshudson.com/publications/new-book-metropolitan-petros-of-astoria/
Thanks!
Written by Anastasios Hudson Tuesday, 08 March 2011 02:54
Thank you for continuing to make OrthodoxChristianity.net the best and largest Orthodox Christian message board on the Internet!
Clean Monday Shutdown
Written by Anastasios Hudson Monday, 15 February 2010 00:39
Continuing its long-standing tradition, OrthodoxChristianity.net has shut down its Orthodox Christian message board for the duration of Clean Monday.
Clean Monday, the first day of Lent, is one of the strictest fast days of the year. Fasting is not just about giving up food, however; the Fathers of the Church also explain that we must fast from the passions. In this vein, the Administrators of OrthodoxChristianity.net wish to assist their fellow Christians by removing any temptations that might arise from posting online.
Over the years, some have asked why the site is not shut down during the entirety of Lent. The reason is that the site is a large repository of information on the Orthodox faith, and a place where Orthodox Christians gather to fellowship, which are inherently positive things. The site does ask that participants review their total time spent on the site during fasts, however, and limit it accordingly.
Welcome to OrthodoxChristianity.net
Written by Anastasios Hudson Thursday, 11 February 2010 23:17
Welcome to OrthodoxChristianity.net, home of the world's largest Orthodox Christian message board/discussion forum!
OrthodoxChristianity.net was founded on May 12, 2002, and has enjoyed a steady growth since then thanks to our readers and participants. Our goal is the propagation of the Orthodox Christian faith—the faith of Jesus Christ and His Apostles. Numerous people have been helped along on their journey towards becoming Orthodox due to our site, and we thank God for the opportunity to serve others in this capacity. In addition, our site provides fellowship for many people who live far from an Orthodox Christian parish.
The forum is not the only feature of our site, though. We have several articles, photo galleries, and a growing Orthodox dictionary which will help to define all the terms that many find unfamiliar when encountering Orthodox reading for the first time. We are always looking to expand our offerings, and if you'd like to join our team of editors and writers, please contact me.
Welcome again to the site, and please pray for us as we pray for all that they might find the fullness of faith, the New Testament Church, the Orthodox Church of Christ.
Fr Anastasios Hudson
Founder and co-Administrator, OrthodoxChristianity.net
This e-mail address is being protected from spambots. You need JavaScript enabled to view it